Traditionally (yes, traditionally. The fact that this blog is only five years old doesn't make it any less of a tradition, thank-you-very-much) I relaunch the blog when the festival officially announce the full-line up.
That hasn't really worked out this year, the powers-that-be released a few names here and then, than rather randomly released most of the line-up without warning (although it seemed to please The Guardian no end, throwing them into raptures because I Am Kloot had their name printed the exact same size as the Rolling Stones).
Apparently, this and some 'rubbish clip art' only proves that Glastonbury Festival was as ramshackle and dysfunctional and non-commercial than ever, and anyone saying otherwise doesn't know what they're talking about.
So, I've been waiting for a definitive line-up to come out, but as time marches on and more names are added on in dribs and drabs, I've conceded defeat, and well..blatantly, I'm back.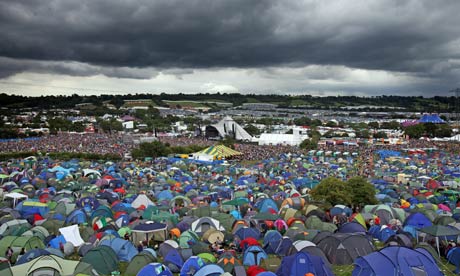 The Met Office have already predicted a wash-out of a summer, warning of cold and wet weather - something about jet streams, I don't know. Of course, a couple years back they were telling us to break out the barbecue and we didn't see the sun until about..October, so I'm not sure how much faith to put in that. Actually, clearly not a lot as I hit eBay a couple of days ago and bought a couple of skirts with a view to wearing them at the festival. So.. yeah. If that threat of my sausage-roll like legs being on display doesn't scare the sun into hiding this summer, I'm not sure what will.
As usual, the line-up isn't doing anything on me. There aren't even any hilarious novelty bands that hold my interest. No, wait, there's The Proclaimers. I know that strictly speaking they're not a novelty act, but you can't beat a bit of Walking 500 Miles, or Letter to America, can you? Especially with a bunch of inebriated people in a tent, all trying to emulate the Scots accent.
Still. The Stones, eh? I know they've been rumoured for /years/, but.. that'll be a show and a half.
One thing that did cheer me up was the announcement that there will be super-fast internet access at Worthy this year. As someone who frequently spends times diligently tapping blog entries and photos into a smart phone, only to find I have no signal and having to do that weird waving-the-phone-around-in-the-air-while-swearing and trying to upload it, it's much, much more exciting than Nick Cave and the Bad Seeds, or The Lumineers.
I don't /think/ it was quite this bad.
I'm going to have to dig out my tent, I suppose. I haven't dared to look at it since some nice man kindly rolled it up for me and wedged it into it's little carrying bag thing for me to lug off site. I hope that it's in a decent enough condition, but I'm pretty sure it's caked with mud and still smells of Worthy Farm and alcohol farts.
Wish me luck.